Happy Holi Wishes 2022
Happy Holi Wishes 2022: Holi is a religious Holi festival celebrated by Hindus all over the world. Holi is considered as a second biggest festival on Hindu calendar after Diwali. Holi is also known as the Festival of Colors. Indian Holi Festival is a once-a-year event renowned for fun and ubiquitous color powder. It is one of the best occasions to experience India at its happiest. Holi is not only a festival to just throw and play with colors. Read More holi wishes 2021. holi wishes, holi wishes in hindi, holi sms, holi sms in hindi, hloli quotes,happy holi quotes in hindi.
Holi Aayee Rangon Ki Bahaar Laee. Rang Se Bachane Sab Khele Aankh Micholi Koee Ham Se Bach Na Paayega Ye Hai Rang Bee Rangon Kee Holee..holee Mubaarak Ho
होली आयी रंगों की बहार लाई. रंग से बचने सब खेले आँख मिचोली.
कोई हम से बच न पायेगा ये है रंग बी रंगों की होली..होली मुबारक हो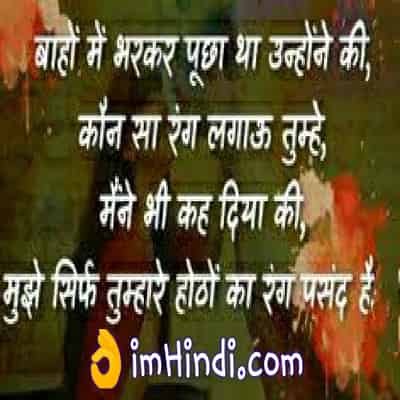 Sooraj Kee Pahali Kiran Mein 7 Rang Ho, Baagon Mein Phoolon Kee Khushaboo Sang Ho,
Aap Jab Bhee Kholen Apanee Palaken, Aapake Chahare Par Holee Ka Rang Ho
सूरज की पहली किरण में 7 रंग हो, बागों में फूलों की खुशबू संग हो
आप जब भी खोलें अपनी पलकें, आपके चहरे पर होली का रंग हो

E Khuda Aaj To Raham Kar De..mere Dost Aaj Nahin Rah Paenge,
Lagava De Kisee Ladakee Ke Haathon Inhe Rang, Ye Kameene Poore Saal Nahin Nahaayenge
ए खुदा आज तो रहम कर दे..मेरे दोस्त आज नहीं रह पाएँगे
लगवा दे किसी लड़की के हाथों इन्हे रंग, ये कमीने पूरे साल नहीं नहायेंगे

Mathura Ki Khushabu, Gokul Ka Har
Vrndaavan Ki Sugandh, Barasaane Kee Phuhaar
Raadha Kee Ummeed, Kaanha Ka Pyaar
Mubaarak Ho Aapako Holee Ka Tyauhaar

मथुरा की खुशबु, गोकुल का हर
वृंदावन की सुगंध, बरसाने की फुहार
राधा की उम्मीद, कान्हा का प्यार
मुबारक हो आपको होली का त्यौहार.

Ye Rango Ka Tyauhaar Aaya Hai
Saath Apane Khushiyaan Laaya Hai
Hamase Pahale Koee Rang Na De Aapako
Isalie Hamane Shubhakaamanaonka Rang

ये रंगो का त्यौहार आया है
साथ अपने खुशियाँ लाया है
हमसे पहले कोई रंग न दे आपको
इसलिए हमने शुभकामनाओंका रंग

Holi Ke Is Tyauhaar Ko, Samajo Mere Pyaar Ko
Yah Tyauhaar Hai Mere Sachche Pyaar Ka Ijahaar
Rangon Ke Tyauhaar Mein Sabhee Rangon Kee Ho Bharamaar
Dher Saaree Khushiyo Se Bhara Ho Aapaka Sansaar

होली के इस त्यौहार को, समजो मेरे प्यार को
यह त्यौहार है मेरे सच्चे प्यार का इजहार
रंगों के त्यौहार में सभी रंगों की हो भरमार
ढेर सारी खुशियो से भरा हो आपका संसार